Denne begivenhed er allerede afholdt.
The Music Experiment
søndag, 4 marts 2018 kl.13:00

-

14:30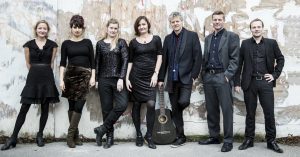 Do you feel like expanding your taste?
– crossover concert with Morten Kargaard Septet
The Aalborg Chamber Music Association, FOKUS and Aalborg Libraries are pleased to invite you in for an experiment in the name of taste of music.
The seven experienced musicians in Morten Kargaard Septet creatively fusion classical and rhythmic music in a way you´ve never heard before.
The septet has released two critically acclaimed CD´s. They´ve experienced their international break through at concerts in Germany and Sweden and is regularly invited to international festivals such as Internationales Sommerfestival Hamburg. The Danish Arts Foundation recently supported Morten Kargaard in his creation of a new piece that we will hear at this concert.
Seat yourself at the café tables in Glashjørnet with friends and new friends, have a chat with the musicians after the artist talk and let us nudge your taste in music a little bit. Who knows, maybe you will have a taste for more?
One thing will be very traditional, though – we serve a sparkling drink alongside an almond stick.
The event is aimed primarily at young people and students up to 30 years.
Read more about Morten Kargaard Septet
The library is open for self service – please bring you yellow card to access.
Free entrance – no registration
Sunday 4th of March at 13:00 – 14.30
Glashjørnet, Aalborg Main Library